Automate & scale your university's marketing production
Empower faculty teams to create university marketing materials on-brand, every time. Outfit has extensive experience in supporting on-brand content creation for universities and education providers through our university marketing software.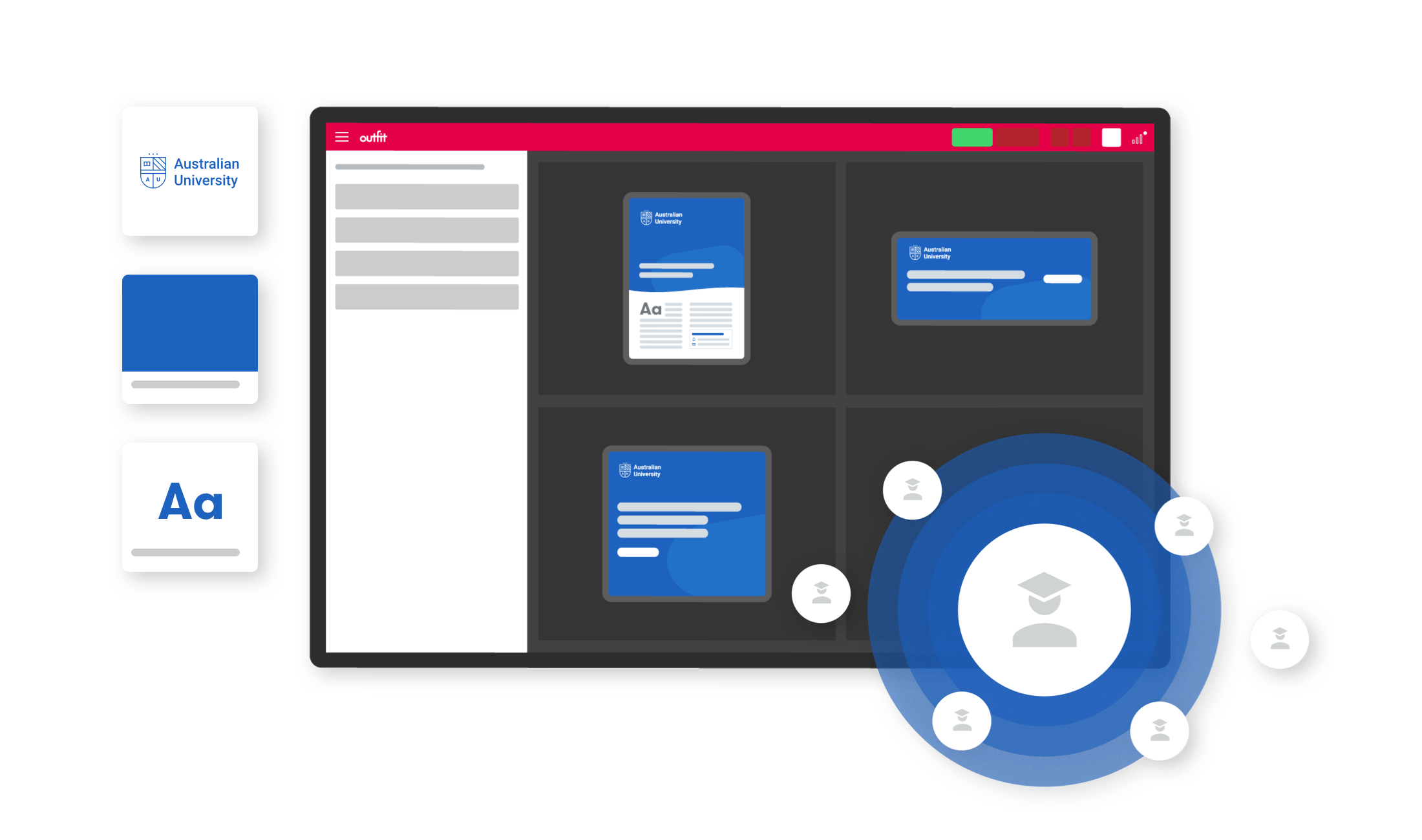 Central brand control
Controlling your brand centrally makes sense - you can ensure the visual identity is used correctly, every time, strengthening your already strong equity among students and prospective students. Outfit facilitates the control of your brand, so your brand guidelines are applied to every piece of university marketing material.
Brand management for university
Brand control
Ensure compliance with brand guidelines when producing university marketing materials
Empower teams
Allow faculty teams to create collateral completely independently
Eliminate bottlenecks
Free up your design team to do more strategic marketing
Empower faculty teams
Faculty marketing teams can develop their collateral swiftly and more cost-effectively than traditional ways through our university marketing software. Outfit automatically customises the collateral to the individual faculty and region, meaning no more hunting around for the right logo or logo lockup to support your marketing plan.
Empowering marketing teams
Eliminate design bottlenecks
Your faculty teams move quickly and often require marketing and event collateral with short timeframes. Outfit university marketing software eliminates long lead times by allowing faculty teams to create their marketing material, without the need to wait for the central team to design them.
More power through on-brand templates
We've partnered with Outfit to allow us to develop brand consistent marketing collateral quickly and easily. This partnership has meant that users can develop their collateral swiftly, and often more cost-effectively than traditional ways. It has also improved coordination and workflow across the many stakeholders
Vicki Goodwin – Group Manager, Brand & Marketing Strategy
—
Monash University
Approval workflows work
Multi-tier? Multi-team? Our approval workflow is built to match your brand and marketing workflow. We set up your approvals so you can ensure no content is in market without the necessary approvals through faculty and central teams.
Be sure with approval workflows