The industry-leading brand automation software platform
Imagine a platform where the use of the brand is controlled, but anyone could build content on-brand, a platform where you could create personalised content using brand automation. Outfit allows you to deliver. On-brand. At scale. Every time.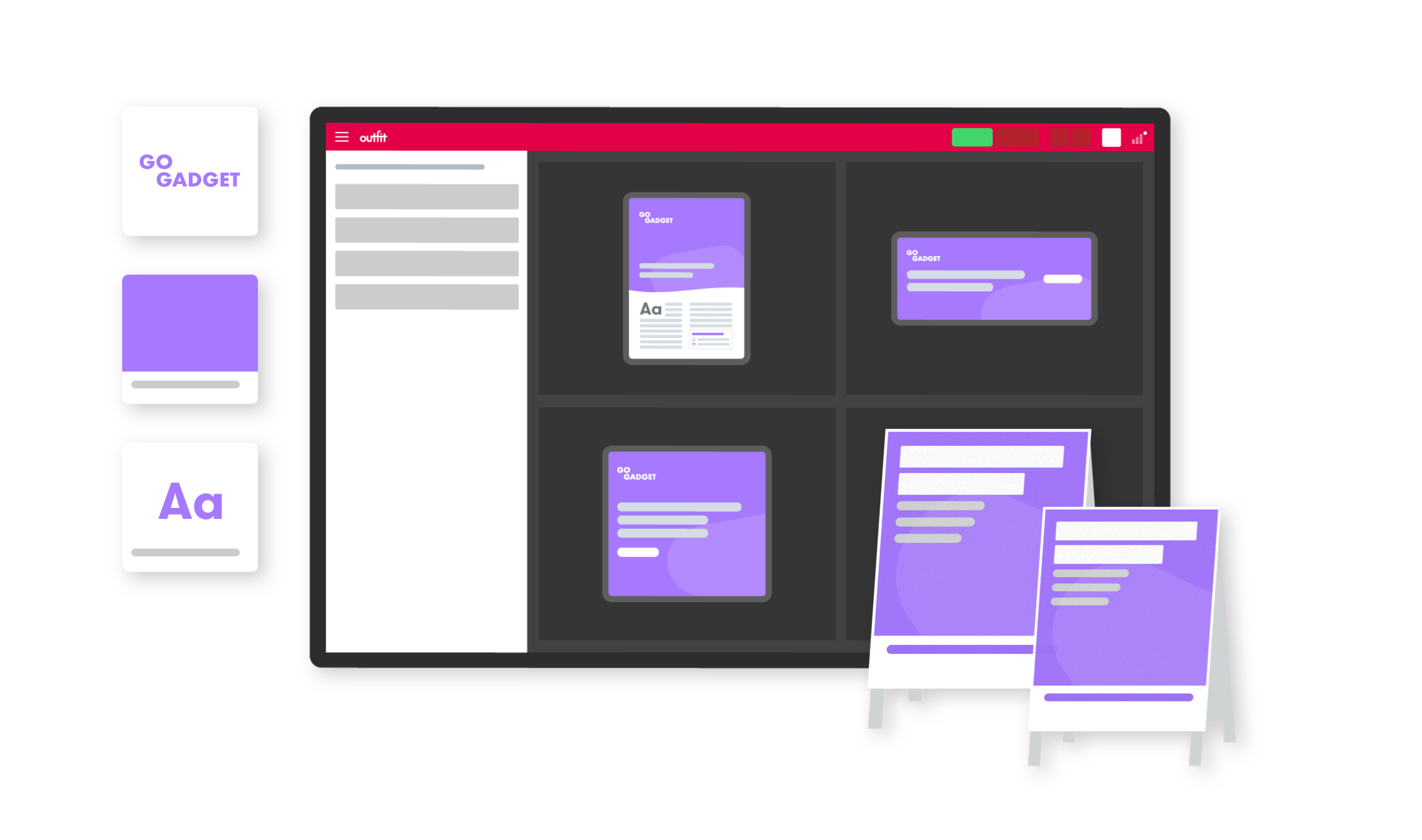 Remain on-brand
A strong brand remains a cornerstone of successful organisations. You have invested incredible effort in building a recognisable brand identity. Our brand automation platform allows more people in your organisation to use the brand the way you intended, by automating how your brand is used.
5 ways brand consistency benefits your brand
Faster to market in more channels
You know being faster to market means you can make the most of opportunities. Our brand automation software features, including data integration, multi-edit and flexible templates, ensure you can be faster to market and in market more frequently without forcing your team to choose between competing priorities.
Executing extra campaigns, made easier
Empower your teams through brand automation
Your brand needs to be protected, but at the same time you recognise your team doing all the manual brand and content creation doesn't make sense, and you may not even have the resources to do this. Outfit empowers the whole organisation to create on-brand content through our brand automation software, freeing your team to do more of what matters.
How does brand automation support a whole organisation?
Use the power of automation to scale
Brand automation is a powerful tool, enabling you to execute with the confidence that comes from standardisation. Your team around the corner, the country and the globe can have the right templates, assets and tools available to deliver creative and content at scale.
What is brand automation?
Reduce risk by using your existing data
With so many channels, personas, customers, messages and offers managed by marketing teams, it is vital to ensure the right message is presented to the right people. Outfit uses your existing data to make this customisation and personalisation easy and automated.
How you can use data to build the right creative
Ensure brand compliance
You know brand compliance isn't as easy as sending out a copy of your brand guidelines. Most people don't set out to break brand guidelines; they don't have the time to go to your central team or don't have the elements and software to make it happen. Outfit flips this process on its head through rigorous brand asset management, making it easy for people to use the brand without needing to come to your team.
How to ensure brand compliance
Be sure with our approval system
Translate your existing approval system into the Outfit platform. We can set up multi-team, multi-layer approvals systems - you don't need to change your approval flow, we map our approval flow to your processes.
Be sure with approval workflows
Free your time, and your teams' time, to do more of what matters by automating marketing production.
Amplify the power of your brand through, powerful digital asset management and integrations, feeding directly into your content production.
Execute with the confidence that comes from brand standardisation and management.