Integrate Outfit with your existing DAM & CRM platforms
Using Outfit shouldn't mean the reinvention of your systems and processes.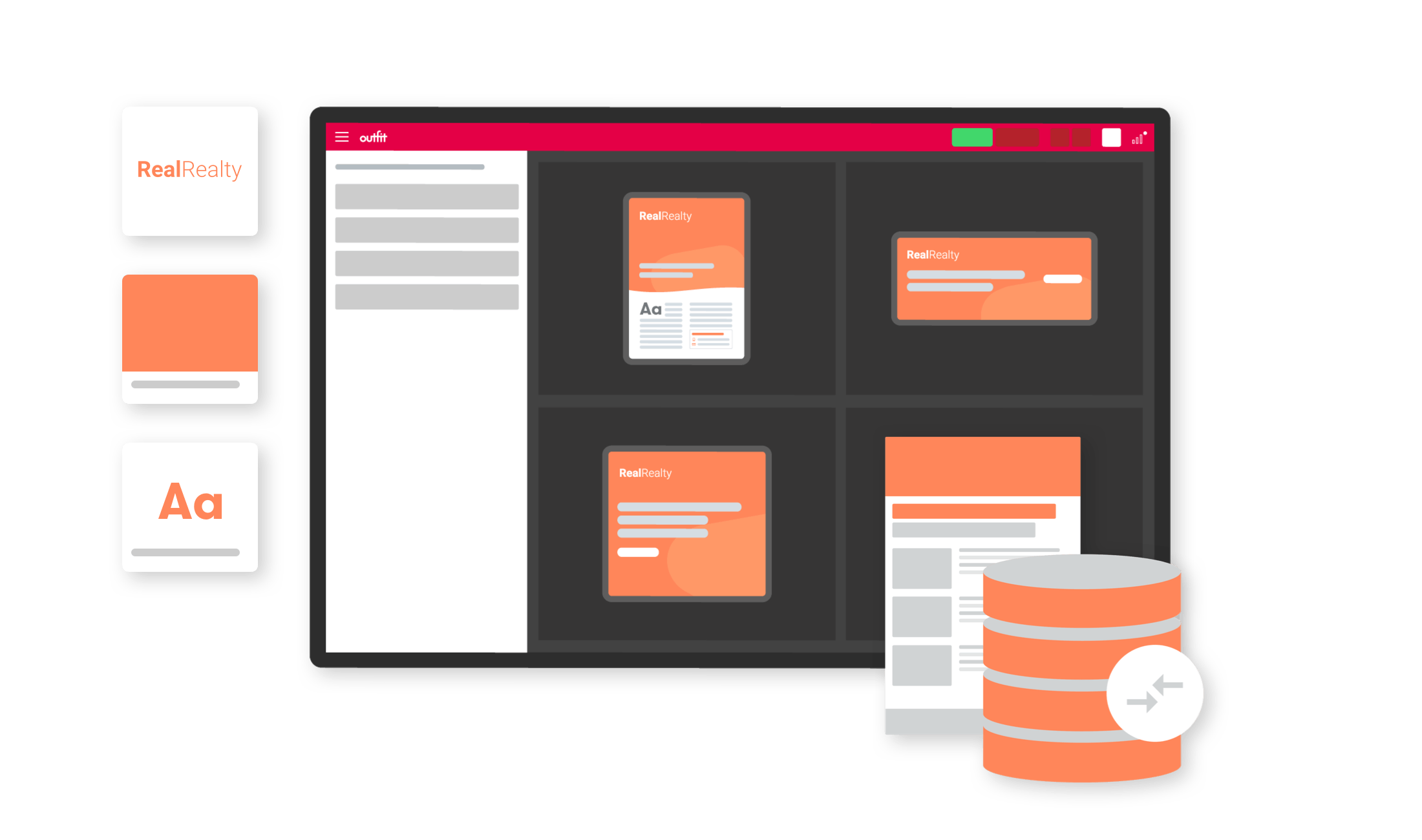 Create an integrated system, with Outfit in the centre of it all. Pull in data to automatically and dynamically generate documents using your existing marketing technology stack.
Outfit integrates with your DAM platform to allow your existing digital assets to be used properly by your internal clients.
Push on-brand Outfit documents straight into the market without any hassle or extra setup with integrations for your email, marketing automation and social media platforms..
Salesforce
Utilise the power of your Salesforce database to generate materials using the power of the Outfit engine. Dynamically produce thousands of documents, on the fly from predefined actions or status changes that are made in Salesforce, or tailor your beautifully designed templates for bespoke, on-demand document generation.
Salesforce Marketing Cloud
Push your perfectly crafted EDM block straight to Salesforce Marketing Cloud upon completion. Know exactly where the EDM is going and who will have access to it and seamlessly continue the process on the Marketing Cloud side as soon is it's been pushed.
Aprimo
Stay on-brand from ideation to publication. Send personalised, compliant documents from Outfit for access and distribution in Aprimo.
Adobe Experience Manager (AEM)
Add a level of brand compliance to your content lifecycle by integrating Outfit and AEM. Embed assets from AEM in Outfit templates, and send completed, compliant documents from Outfit back to AEM. 
IntelligenceBank
Already housing your assets in IntelligenceBank? Integrate your IntelligenceBank account with Outfit to use your assets in on-brand templates, and export completed documents back into IntelligenceBank for additional content distribution.
Collaboro
The Outfit integration with Collaboro allows you to harness the power of the full Collaboro DAM and use those assets seamlessly in your content production from print to digital to video through on-brand production.
Widen
This integration enables Widen Collective® users to access on-brand imagery housed in their digital asset management (DAM) system, directly from within the Outfit platform. This ensures your company's content always has the latest imagery and safe-guards against the use of expired assets.
Asset Bank
Already have a curated library of ready-to-go imagery in the Asset Bank DAM platform? Simply flip the switch and all of your optimised, high resolution imagery can be accessed via Outfit and for use in your on-brand templates.
Pricefinder
Streamline the creation of real estate marketing and promotional materials by utilising Pricefinder's data and analytics engine. Enhance the presentation and quality of your real estate materials instantly via Outfit's powerful template architecture.
Pendula
Supercharge your Pendula multi-channel deliveries with Outfit. Using Outfit's powerful rendering engine, generate invoices and other necessary branded documents, triggered by Pendula's powerful AI based customer communication management platform.
Dropbox
Sync Outfit exported documents straight to your Dropbox. No need to fill up your Downloads with an ever-growing list of exports, let Outfit and Dropbox handle your file management. Newly exported documents will create a neatly ordered folder structure that's time-stamped for easy access later on.
Email on Acid
Enhance your EDM creation workflow with Email on Acid's powerful rendering and testing engine. Craft and test your email without ever leaving Outfit and have peace of mind that all checks have passed before deploying to your external deployment platform.
Google Drive
Sync Outfit exports and programmatic creative sheets straight to your business Drive. Newly exported documents will create a neatly ordered folder structure that's time-stamped for easy access later on.
Google Sheets
Dynamically produce thousands of variations with the click of a button. Setup your ad sizes, text segments and creative elements in Google Sheets, synthesise and render those variations using Outfit's flexible templates and deploy via your ad networks.
Social Media
Deploy your exported social media optimised images straight to Facebook, Twitter and LinkedIn without ever having to leave Outfit. Remove the brand risk of posting poor quality content and increase your channel's consistency with Outfit's social media integrations.
Custom Integrations
Your existing systems will never have to go by the wayside with Outfit's powerful API driven architecture. Custom integrations are easy to setup and highly configurable. Talk to us today about our API capabilities.