Empower franchisees with our franchise marketing software
Franchisees can execute local area marketing collateral on-brand, every time. Outfit delivers on-brand solutions for franchisees to empower them to create custom content.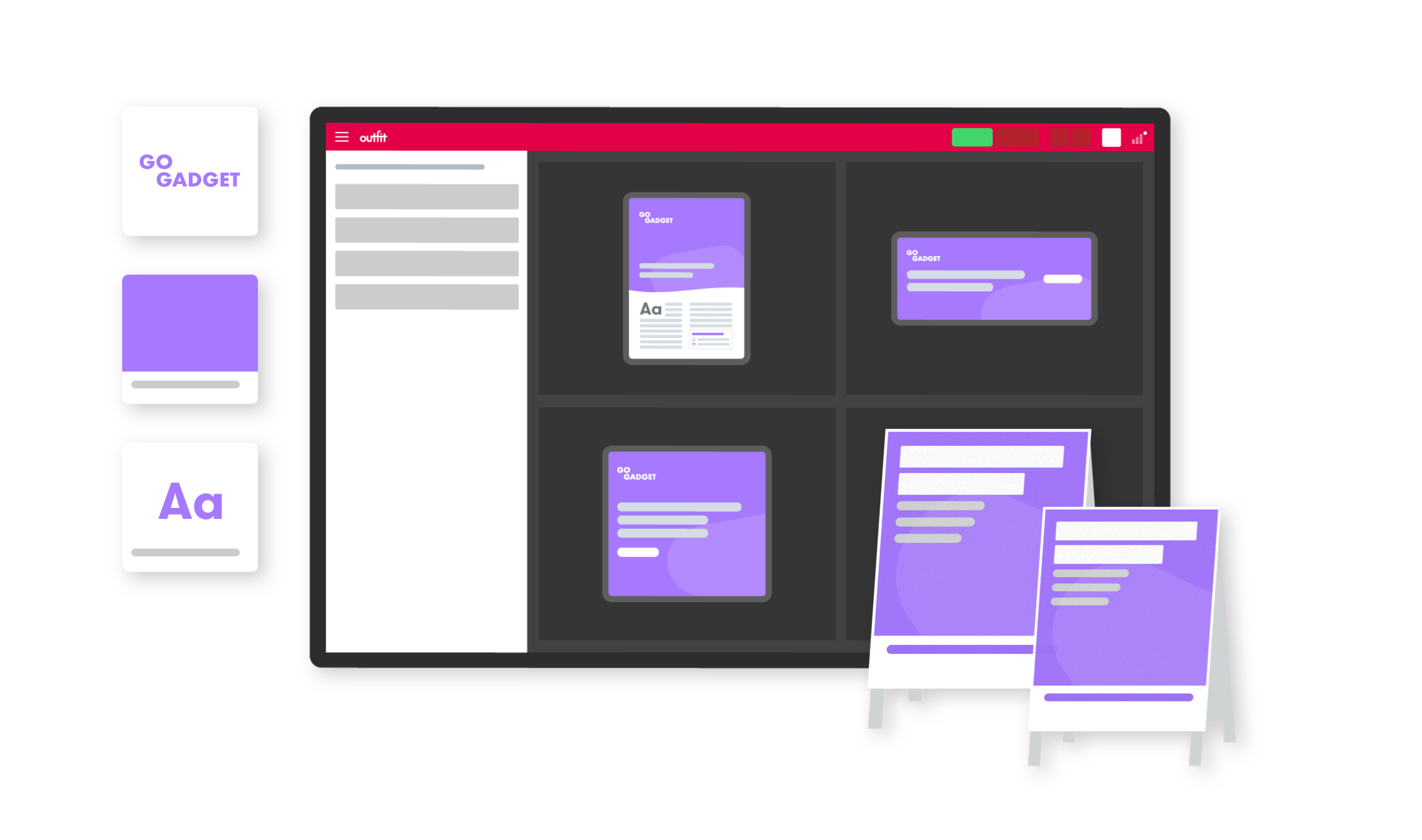 Customised templates, automatically
Your franchise network has diverse locations and demographics and will need various marketing materials for local area marketing. Outfit creates templates, customised to each store, so their details, products and most importantly the brand use are always correct. Each franchisee has precisely the templates they need to deliver their franchise marketing plan, every time.
Franchise brand reputation
Empower franchisees
Your franchisees can create their own, always on-brand, collateral and completely localised
Grow brand equity
Your brand needs to remain strong yet scalable as your network grows
Quick turnaround
Design collateral quickly without draining head office with our franchise marketing software
Make recruiting new franchisees easier
Recruiting new franchisees is a detailed and time intensive process. Outfit's franchise marketing software makes it easier when you have a new franchisee recruitment kit and can produce the collateral you need without a marketing request. This is just one area of brand management for franchise made easier through Outfit.
Brand management for franchise
Franchise marketing for new store openings
Opening a new store is a significant effort for both the franchisor and the franchisee - the advertising, the point of sale, the communications. The collateral creation for a new store opening can be automated through Outfit to suit your franchise marketing plan, drawing down on both the existing collateral and data integrations.
Local area marketing for franchise
Our franchisees can now create their first pre-launch campaign in under ten minutes with Outfit. This has significantly increased how quickly we get a new franchisee on their feet and running their business.
Tim West, Founder
—
12Round Fitness
Empower franchisees
Most franchisees currently have several design options - use only what is supplied by the franchisor, make design requests of the marketing team, employ their own graphic designer (usually on a freelance basis). These solutions can lead to frustration in the network. Outfit's franchise marketing software eliminates this frustration by empowering franchisees to produce their collateral in the platform, without the need for a graphic designer or design software.
Tips for great local area marketing
Quick turnarounds
The best franchisees are those who invest in LAM (or LSM) and see the benefits of a robust local area marketing program, often needing to move quickly to capitalise on opportunities. Creating franchise marketing in the Outfit platform means they can generate collateral without the delay of briefing and design bottlenecks.
5 tips for great local area marketing
Be confident with approval workflows
You can be confident your franchisees are applying the brand guidelines through Outfit by implementing an approval workflow. We set up approvals so you can ensure no collateral is in market without the necessary checks from the franchisor or the master franchisee.
Be sure with approval workflows