Content, brand and marketing production software
Outfit allows you to amplify the power of your brand through automated marketing production. Our platform enables you to make time for creating, not copying by implementing the power of scale through easy marketing production.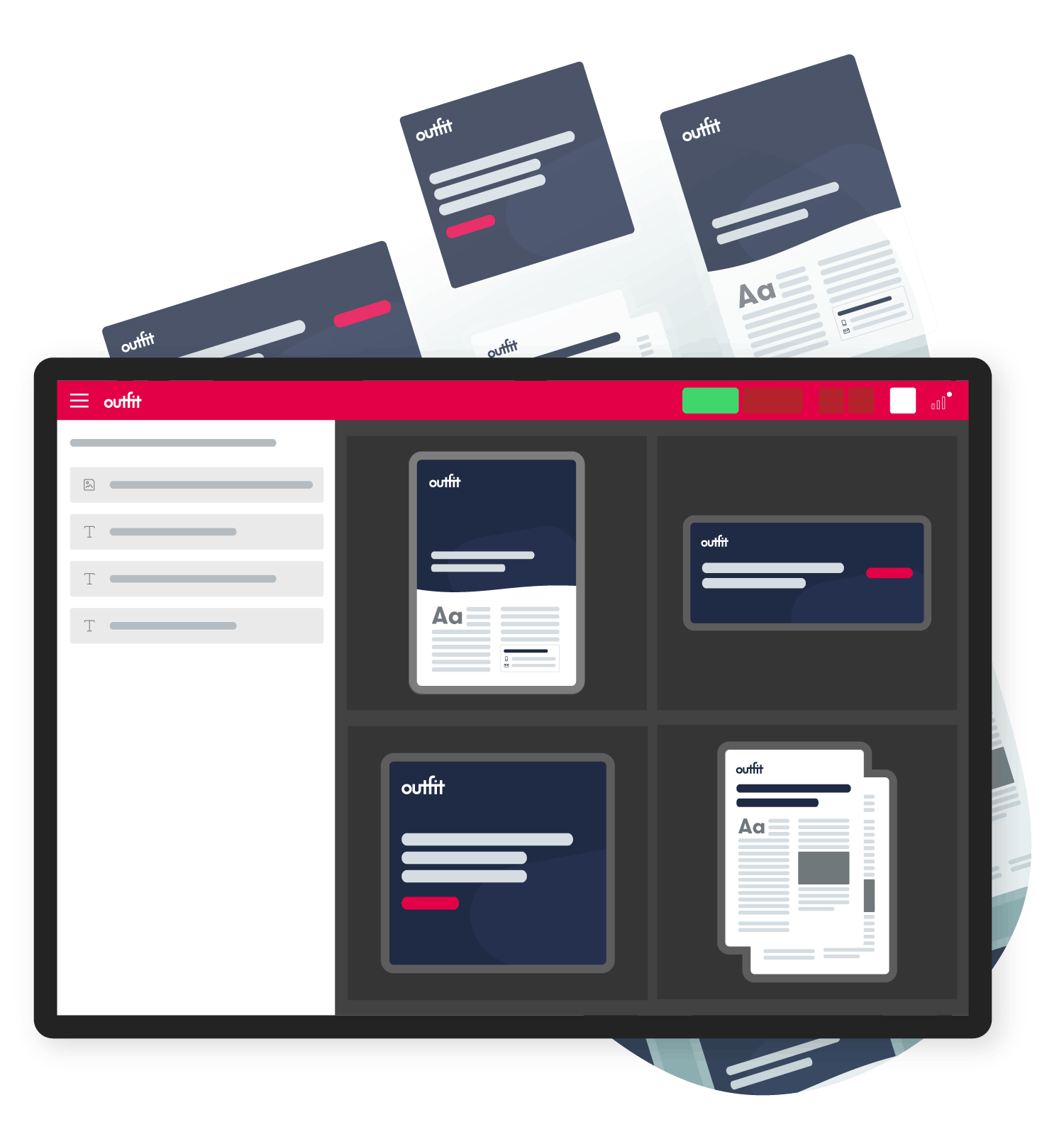 Templated, on-brand collateral
There are vital components and collateral within your branding your teams use again and again. There are key pieces you produce every day, week or month at the request of your stakeholders. Our platform takes these pieces of collateral and puts them safely in the hands of your stakeholders to produce their own marketing, through our templates and kits, so you can focus on what you do best.
More power through on-brand templates
Data integrations
Marketing teams have access to an enormous amount of data - employee data, location data, customer data. This content creation for digital marketing automation and advertising taps into this existing data to ingest it and intelligently apply it to your marketing production. Waste not, want not after all!
Integrate Outfit with digital marketing production
Strengthen brand integrity
Every piece of collateral, on-brand, on time and at scale
Faster to market, again and again
More campaigns launched, with ease of iteration
Reduce production costs
Hours of time saved across the organisation without needing to outsource production
Maximise your existing data
Eliminate the waste and frustration of long build times and data movement
Empower teams
Empower the whole organisation to create on-brand content
Reduce risk
Your brand in safe hands with approval workflows, clear templates and an audit trail
Easy campaign duplication
Marketers build campaigns for the same channels, for the same campaigns with the same key messages and details. Our marketing production platform allows you to create, and iterate, these elements simultaneously without copying and pasting into dozens of documents.
The power of multi-edit
Scale without borders
You need to deliver more and often don't have the resources to keep up with the marketing production demand. Our platform allows you to scale in a completely new way, with localised campaigns, empowering people 'on the ground'. We scale sustainably, without adding to your resourcing overhead.
Empowering marketing teams and a whole organisation
Approval workflows
Multi-tier? Multi-team? Our approval workflow is built to match your workflow. We set up your approvals so you can ensure no content is in market without the necessary eyes and checks.
Be sure with approval workflows
Free your time, and your teams' time, to do more of what matters by automating marketing production.
Amplify the power of your brand through, powerful digital asset management and integrations, feeding directly into your content production.
Execute with the confidence that comes from brand standardisation and management.