Build Brands Better
Build your brand better with Outfit, a brand management and templating solution that will empower your teams to self-create content at scale, at speed and on-brand. Every time.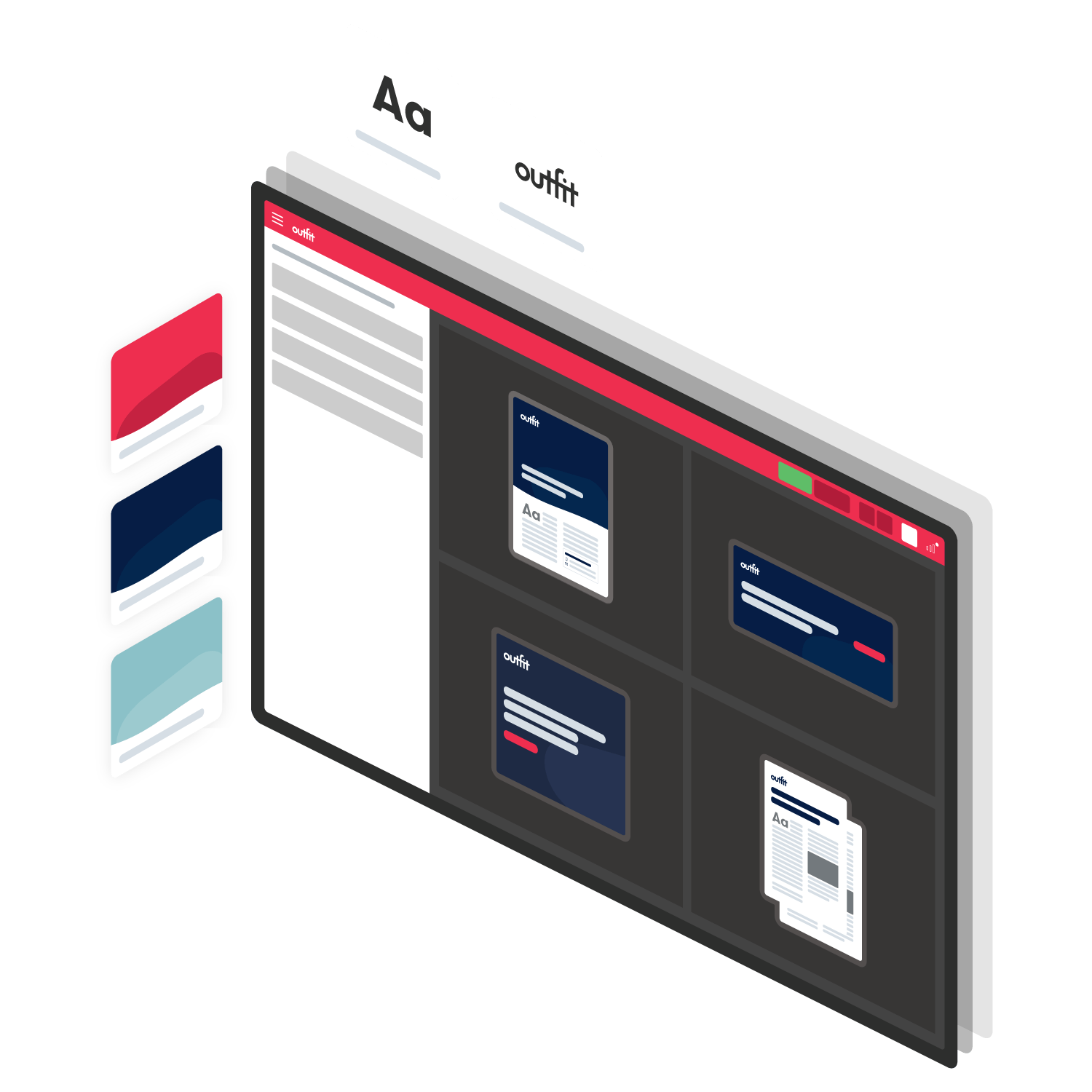 Brand management software used by enterprise customers
Strengthen brand integrity
Every piece of collateral, on-brand, on time and at scale
Faster to market, again and again
More campaigns launched, with ease of iteration
Reduce production costs
Hours of time saved across the organisation without needing to outsource production
Maximise your existing data
Eliminate the waste and frustration of long build times and data movement
Empower teams
Empower the whole organisation to create on-brand content
Reduce risk
Your brand in safe hands with approval workflows, clear templates and an audit trail
Free your time, and your teams' time, to do more of what matters by automating marketing production.
Amplify the power of your brand through, powerful digital asset management and integrations, feeding directly into your content production.
Execute with the confidence that comes from brand standardisation and management.
We know organisations struggle to produce enough on-brand content to satisfy their customers and deliver sales. The right brand management system supports this.
Outfit creates new ways to allow enterprises to be more successful through our brand management platform. So much of what marketing and brand teams do is formatting and applying the brand in the proper way. Organisations understand that brand is powerful, but sitting it with only a few people with the right software is limiting and creates frustration.
Imagine a brand management platform where the use of the brand was controlled but anyone could build content on-brand. A brand management platform where you could create personalised content at the click of a button. A brand management platform that integrates with your existing martech stack, complementing your existing CRM, marketing automation and resource management.
Brand management solutions for enterprise
The Outfit platform is a new breed of online brand management. It isn't just a cloud storage solution for your brand assets, it is brand management software that allows anyone in your organisation to use your brand assets to produce marketing and sales collateral.
Brand management software to ensure your brand is rigorously controlled but able to be used by anyone, not just a graphic designer.
A brand management solution to empower your team and your whole organisation.
Brand automation
Brand automation isn't yet a common term used by marketers and brand managers, but increasingly marketers are seeking solutions to branding inconsistencies, production bottlenecks and the sheer volume of creative now needed for proliferating marketing and communication channels.
Brand automation uses technology to automate on-brand marketing production.
Brand automation, at its most basic level, takes existing brand and marketing assets and automates the placement and use of these within a template framework. The template framework means users without design software or skills can produce collateral, on-brand.
Automating your marketing production and brand management through brand automation allows you to deliver a return on investment both through saved production costs where you don't need to outsource production anymore, and through time given back to your inhouse design studio.